Monday Blues! Well.. not
those
kinds of blues! I've spotted a new trend that's been slowly creeping up the celebrity fashion chain - Cobalt Blue!
I noticed a blue bag
on Emmy Rossum for a piece I did about Weekend Wear - and blue was turning up on so many runways during Spring/Summer 2011 Fashion Week (see
this Jason Wu gown
and all over the runway
at Jil Sander
) In the past few weeks celebs have been snapped wearing this exact color - mostly in sheaths.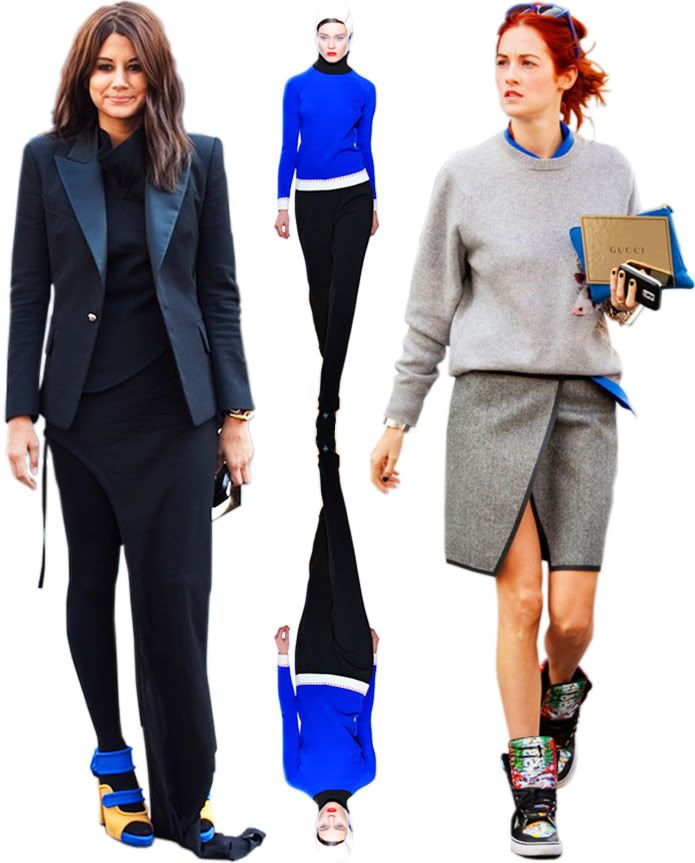 This is a fantastic color for the upcoming warmer months! So Vibrant - I am loving it. Black accessories look great like Kerry's simple shoes and clutch or go bolder with tons of gold jewelry a la Blake or a statement necklace like Jessica's. If you aren't totally loving the idea of wearing a blue dress - try a different piece.
Here, two Gossip Girlfashionistas prove you don't have to be blue all over in order to keep up with the trends. Leighton Meester (or Blair Waldorf) pairs her suede fringe booties with some navy shorts. Of course - I am obsessed with Blake Lively's blue pants/gold sequined jacket look. When veering into the blue pants area, I say steer clear of jeans and try a regular pant. It will give a much cleaner and sleeker look than jeans. The best thing about this bright color is that you can keep the outfit simple as simple as you want (try neutrals like Leighton) or make it as showy and exciting as possible.
I searched for some affordable (yay!) and fabulous pieces that you could add to your closet. I am loving that messenger bag and those Jessica Simpson shoes - so fab
i ll blue tomorrow, or rather its best if i got myself a cobalt blue nail polish today.
let me go study. got 2 c.a.ts tomorrow.
Enticed ?
x.
shitawa